Denver, CO – BridgeView, one of Denver's leading technology consulting firms, has been named one of Outside's 2021 Best Places to Work for the third time in a row. The prestigious awards program identifies and recognizes 50 exemplary U.S. employers across a wide spectrum of industries and is heavily based on employee feedback. The award reflects BridgeView's long-standing reputation for employee satisfaction, which is consistently supported by internal and external survey results as well as industry-leading job tenure.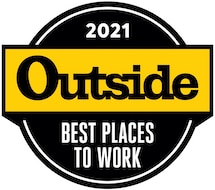 "BridgeView runs on innovation, which we view as a kind of constant curiosity about how we can continuously work to enhance our culture," said Tim Glennie, Co-Founder and Managing Partner. "That same curiosity drives us in creating a work environment that keeps employees happy and fulfilled. We're always tinkering to make things better or more fun—for example, we offer Powder Days, which enable our employees to take time off without notice to ski or go on other adventures, no questions asked."
Outside's annual Best Places to Work list derives its rankings from employee surveys, which represent 75% of the scoring and contain over 80 questions grouped into eight core focus areas, each designed to gauge satisfaction with the employee experience. These focus areas include questions on culture, leadership, training, pay, and more. The surveys are completed anonymously to ensure truthful responses and accurate feedback.
The remaining 25% of the score comes from a questionnaire about efforts to create positive employee experiences. Recipients must indicate what their company offers in terms of benefits or practices: PTO, hiring practices, career development efforts, community service, employee recognition programs, and more.
"I think we've established a unique company culture at BridgeView," said Chris Beisler, Co-Founder and Managing Partner. "Every day we do our best to honor the adventurous spirit within each of our employees, giving them new reasons to get excited about working here and motivating them to innovate. To get this kind of acknowledgement from Outside three years in a row really validates our efforts."
About BridgeView
BridgeView is a technology consulting firm that helps clients solve complex problems. The company's core strengths include three practice areas: elevated staffing to quickly secure technical talent, management consulting for strategic project collaboration, and solutions consulting for technical project delivery and adoption. With over 15 years of delivery excellence and a dedication to fostering authentic relationships built on trust, BridgeView delivers big wins for Denver businesses. For more information and to see why it's an award-winning organization, visit www.bridgeviewit.com.