BridgeView IT, a leading technology consulting services and placement firm, has been named to Denver Business Journal's 2019 Best Places to Work list. Based directly on employee feedback, this distinction identifies Denver companies providing top workplace environments, engaging their teams, and changing the area's business landscape.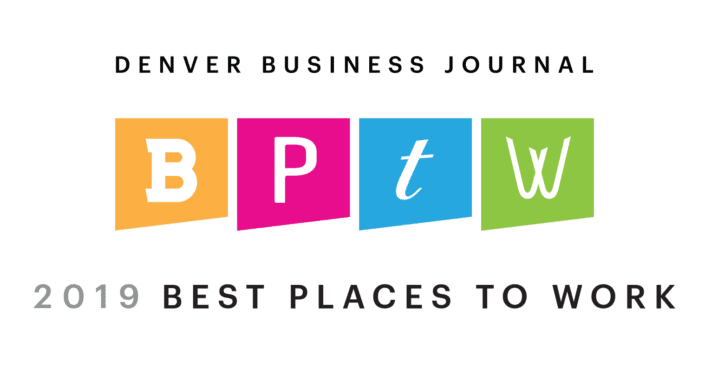 "BridgeView IT puts people first, and it's wonderful to be recognized for that effort," shared Chris Beisler, Co-Founder and Managing Partner. "Our employees' success is our success, and it's important to provide a unique and refreshing environment where they can thrive professionally and personally."
The Denver Business Journal received nearly 400 nominations for 2019, awarding only 85 companies to the list. Employees from all nominated companies received Quantum Workplace employee engagement surveys. These measured 10 key categories including team effectiveness, trust in senior leaders, feeling valued, manager effectiveness, compensation and benefits, and more. In order to be considered, companies had to reach a minimum level of employee participation based on their size.
"Denver is hands down the best city in America," commented Tim Glennie, Co-Founder and Managing Partner. "Whether it's by leveraging our hip downtown office space, providing 'powder days' for those who love to ski and snowboard, or volunteering at local charities, we make a point to capitalize on what Denver offers modern professionals."
Additional information, including employee feedback from surveys, is to be released by the Denver Business Journal in the coming weeks. Award winners will be profiled in the June 14th, 2019 edition of the publication and a celebratory reception will take place at that time to honor winning companies.
About BridgeView IT
Founded in 2005, BridgeView IT delivers exceptional technology consulting, project augmentation, and placement services while building deep relationships with both clients and candidates. With a headquarters strategically located in Denver, Colorado, the company is able to provide services and connect with people across America. Additionally, a recruiting center in Vietnam allows BridgeView IT to work around the clock, locating best-fit technologists for clients while progressing careers in positive ways. For more information, visit www.bridgeviewit.com.