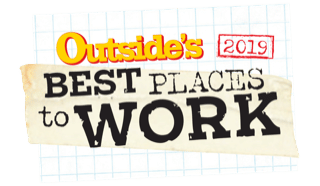 BridgeView IT, a leading technology consulting services and placement firm, has been named one of Outside Magazine's 2019 Best Places to Work. This award recognizes 50 outstanding employers across a number of industries throughout the United States and is based heavily on direct feedback from employees.
"BridgeView IT team members deserve the best, and that's what we aim to give them," commented Chris Beisler, Co-Founder and Managing Partner. "People are at the heart of what we do, and an award like this is confirmation that our efforts to improve lives are paying off."
Employee surveys comprised 75% of the scoring for Outside's award. These in-depth polls were made up of over 80 questions grouped into eight core focus areas. Designed to encompass the entire employee experience, these areas included questions on leadership, culture, environment, training, pay, and more. Surveys were filled out anonymously to ensure truthful responses and accurate feedback.
The other 25% of the overall score came from an employer benefits and policies questionnaire crafted to better understand the effort a business is making to create a positive employee experience. Questions here covered areas such as hiring practices, benefits, PTO time, community service, career development efforts, and employee recognition programs. Once both surveys were completed for all applicant companies, Outside compiled scores, ranked the companies, and awarded the country's top 50 employers.
"The technology industry is one of the most competitive," shared Tim Glennie, Co-Founder and Managing Partner. "We continuously seek to provide a world-class experience for technologists, recruiters, managers, and anyone who interacts with BridgeView IT."
About BridgeView IT
Founded in 2005, BridgeView IT delivers exceptional technology consulting, project augmentation, and placement services while building deep relationships with both businesses and technologists. With a headquarters strategically located in Denver, Colorado, the company is able to provide services and connect with people across America. Additionally, a recruiting center in Vietnam allows BridgeView IT to work around the clock, locating best-fit technologists for clients while progressing careers in positive ways. For more information, visit www.bridgeviewit.com.